On Tuesday, October 11, 2022 the GRAETC Executive Committee gathered and spent time reflecting on how to effectively coach to support innovative student learning experiences. With the onset of the Pandemic in March 2020, instructional technology coaching and the pedagogy behind the effective integration of technology into classrooms often took a backseat to figuring out how to teach virtually and how to best ensure that all students had access to the necessary hardware for virtual learning. As divisions became flooded with Cares Funds, they found themselves saturated with every piece of technology, hardware and software, that they could ever need. 
Now, as we make a return to more traditional school models, many divisions find themselves lost in technology. They have ample WiFi, enough Chromebooks, and access to almost any software that one could imagine, and yet, many students are more disengaged in instruction than they ever have been. The results of this disengagement, with instruction and with each other, has pushed many teachers to a breaking point causing them to essentially throw technology at their students; "go to this website," "watch this video," or "play this game" have become common phrases heard throughout classrooms. Anything to keep students occupied with instruction. Notice the verbiage there? Occupied with instruction, not engaged with instruction. This realization challenged me to reflect on the question: is learning occurring in our classrooms today? At what level? And from what I have seen, effective teaching and learning can sometimes be hard to find in today's classrooms. It seems as if our technology has expanded so rapidly that it overshadowed sound pedagogy, resulting in disengaged students and exhausted teachers.
The current climate of the classroom highlights the need for all teachers to develop an understanding of how to engage students in a 21st Century Classroom. That engagement lies at the center of the TPACK model (pictured above). Technological knowledge, content knowledge, and pedagogical knowledge must be understood and applied at equal levels in order to create successful student learning experiences This is going to require many teachers to shift their paradigm on what effective pedagogy looks like, feels like, and sounds like. No longer should classrooms be silent as students sit in rows, even if they have a Chromebook in front of them. The Chromebook is merely a tool in the teachers toolbox, not the engine that drives instruction in their classroom.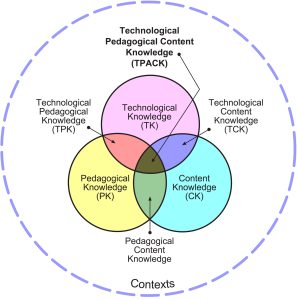 Understanding how to successfully integrate technology into instruction comes with teachers' understanding of the TPACK model and with teachers changing their pedagogy, which highlights a new challenge for innovative learning coaches. It is not just about going into classrooms and teaching teachers and students how to use their Chromebooks; it is instead about collaboratively planning and then modeling examples of effective 21st century learning experiences. Teachers need to see how these look, how they sound, and how they feel.
In an effort to support Innovative Learning Coaches throughout Region One, we challenged our GRAETC members to reflect on and share examples of coaching experiences that support innovative learning experiences for students. We used their responses to begin to build a repository of lesson ideas for innovators across Region One and for innovators across Virginia to use when looking for ideas on how to support teachers in using technology with fidelity. We asked them to highlight lessons and learning models that supported the effective blending of technological, content, and pedagogical knowledge to create a truly meaningful 21st Century learning experience.
You can access GRAETC members' lesson ideas on this Padlet
Supporting teachers in creating successful 21st Century learning experiences is not a small task. Part of GRAETC's mission is to, "provide connected learning opportunities to build capacity around innovative and the sound pedagogical use of instructional technology resources." The link above, is one resource that any innovative learning coach or teacher interested in beginning innovation initiatives in their classroom, can use.
Authorship Information:
Chrissy Carr is in her second year of serving as the Coordinator for Educational Technology and Innovation for Prince George County Public Schools. Previously she held positions as an ITRT and a fourth and fifth grade teacher. Mrs. Carr is passionate about providing innovative learning experiences for students and, as such, serves as our current Chair-Elect for GRAETC.