This past year, Colonial Heights Public Schools distributed Chromebooks to all students in grades 6-12. Fifth graders are 1:1 also; however, their Chromebooks stay in the classroom. As part of the Chromebook package, Schoology was also rolled out, a Learning Management System, so that teachers could curate and organize their content. With the advent of new hardware and web tools, teachers wanted resources, and they wanted training, but their being strapped for time can be a hurdle.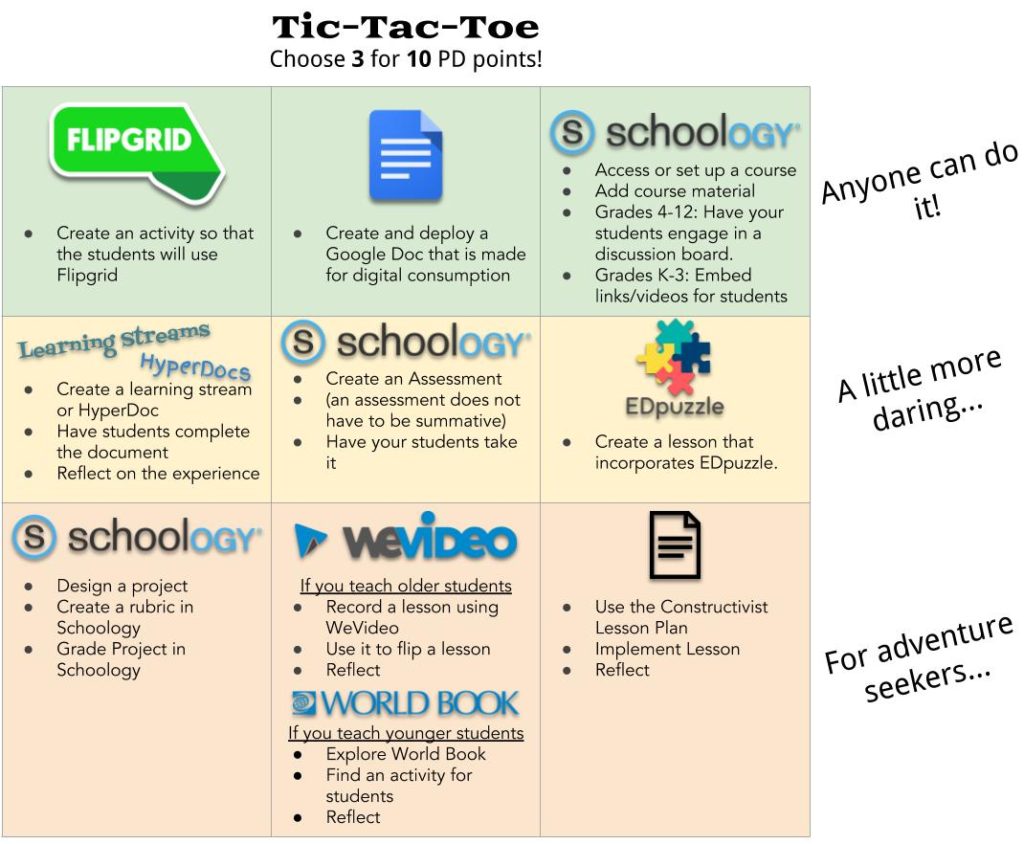 Enter the choice board! Offering students choice has been a part of effective teaching practices for many years, and educators are now seeing the value of offering choices for professional development. Granting teachers some autonomy over their professional development not only allows them to learn what they want, but also when they want.

Wanting to make sure that there was some purpose behind the choices, activities were developed that coincided with tools that were newly purchased or updated and incorporated good teaching practices. In addition to making sure the activities would be relevant, it was important to reach every teacher's skill level. With this choice board, teachers could choose any three activities they wanted for ten recertification points; however, the rows were organized into easy, intermediate, and advanced so that teachers could focus on a particular band of activities if that suited their taste.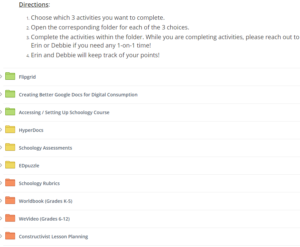 All activities were housed in their own folder within Schoology, making it easy for teachers to navigate through and complete them. Several teachers have commented that they appreciated having more flexibility with regard to managing their own professional development. They were able to focus on activities that they found relevant and within their comfort zone, or they could stretch themselves if they had more time.

If you are a teacher or instructional coach, try creating professional development that allows teachers choice in what, when, and where they learn.

Authorship Information

Erin Ford an Educational Technology Coach for Colonial Heights Public schools. Before becoming an EdTech Coach, she taught high school English for 13 years.