The digital world is full of excellent educational resources. Whether these resources are free or must be purchased, teachers are excited to share their newest digital finds with co-workers. Teachers often question, though, whether they are allowed to share their finds. Doesn't this resource have a copyright? If I share it, am I breaking the law? What if my coworker adds to the resource and tries to pass it as their own? Open Educational Resources (OER) help take some of those stressful questions away. OER are resources that reside in the public domain. They are free to use, and in many cases, they may be edited or repurposed by educators.
What is #GoOpenVA?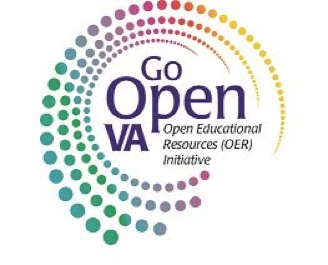 Virginia recently launched #GoOpenVA. #GoOpenVA is a repository of OER available to teachers without the hindrance of copyright limitations. Teachers can quickly search through the thousands of resources already available and even filter search results to find exactly that for which they're looking. While there are already thousands of resources available through the #GoOpenVA website, it is important to remember a couple of things:
Standards of Learning alignment: Don't be scared if a resource you found through a search does not have an SOL alignment indicated. The resource might have been provided by an institution that does not know Virginia's standards like you do! If you find an excellent resource, you can align the resource to the correct standard so that your fellow teachers can more easily locate the resource in the future.
#GoOpenVA depends on you!: The #GoOpenVA website is meant to serve as a community of sharing between educators across the state. The site is only as great as the resources added to it, and there are ways in which educators can make them better.

Add: After accessing the #GoOpenVA website, add your own personal OER or create a link to an existing OER available on the web.
Remix: While the resource found might be excellent, you might find that a few tweaks would make it more useful for your students. Use the remix option, when available, to make changes to any of the OER on the site. The changes you make might also be beneficial to other educators!
Evaluate: After analyzing the resource and/or using the resource with your students, evaluate it. Much like online shopping, #GoOpenVA users take resource ratings into account when deciding whether to use or remix the resource before using.
Getting Started on #GoOpenVA
Searching for resources on #GoOpenVA is easy!  After accessing the website, use the simple search function to find resources by keywords, subject, grade level, or standard.  Users may also explore all resources, resource collections, or resource providers by using the Discover feature.
Beyond searching for resources, users can also learn how to best utilize all of the features #GoOpenVA has to offer by accessing the Users Hub.  The Basics hub provides an introduction to, and general information about, OER, as well as the "basics" of how to use #GoOpenVA.  The Help Center also provides numerous resources that help answer questions and get you started with #GoOpenVA.
Authorship Information:
Wade Kliebenstein is an Instructional Technology Resource Teacher at N.B. Clements Junior High School in Prince George, Virginia. Before serving as an ITRT, he taught middle school Civics & Economics and Reading. Wade is a graduate of James Madison University where he earned a BS in Interdisciplinary Social Sciences in 2004 and a MAT in 2005. When not helping teachers with their instructional technology needs, he enjoys watching documentaries of anything that looks interesting.