Ray Bradbury, best known for his 1953 novel Fahrenheit 451, used his imagination to take a hard look at a world locked in a growing love affair with technology. He made fascinating predictions about flat-screen televisions, self-driving cars, electronic surveillance, and "thimble radios" that bear a striking resemblance to earbuds.
Despite his gift of prophecy, Bradbury neglected the world of educational technology. Lucky for us, educators with a mission understood the importance of building instructional technology resources for pedagogical use – and made that kind of innovation a reality.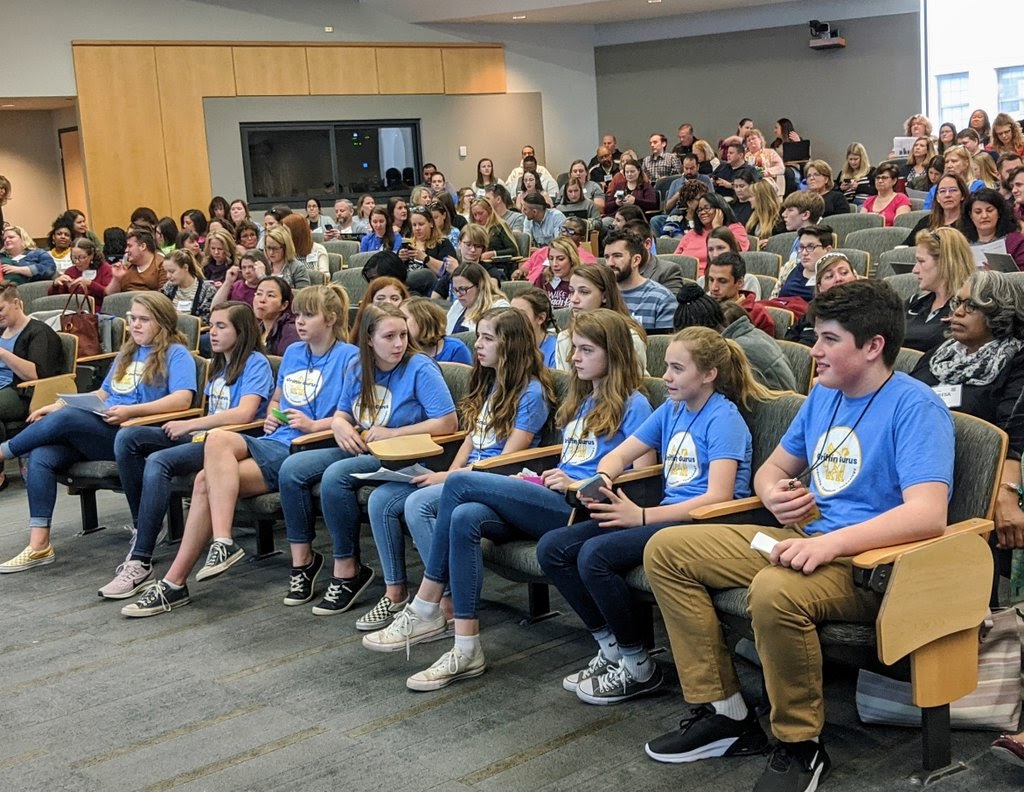 During our keynote, Quioccasin Middle School students, who call themselves the Griffin Gurus (@QMSGriffins), inspired us with their innovative approach to becoming instructional technology experts at their school and building a culture of camaraderie between all learners. Focusing on important skills, such as professionalism, public speaking, confidence, and teamwork, these students visit classrooms to help teach the technology portion of a lesson, provide professional learning to teachers on how to incorporate technology into learning experiences, provide students with opportunities to learn technology through play, and more! (Check out Tamara Letter's sketchnote!) We were extremely impressed with how their teacher sponsors, Erin Daniel and Tedra Buckler, created this remarkable educational pathway for their school.
In addition to kicking off our event, the Griffin Gurus also ran our student-led Tech Playground. Another new addition this year were the exciting Demo Slams! Educators volunteered to share what works in their classrooms – including ideas, apps, solutions, gadgets, and pedagogy. Each presenter had a maximum of 3 minutes to share their knowledge as the crowd hooted and hollered. Tristan Chilcote was awarded the highly coveted EdTechRVA Demo Slam Championship and won a free registration to next year's conference! We also enjoyed a wide range of interactive 45-minutes sessions that focused on digital citizenship, teamwork, design, cross-curricular content, and virtual and augmented reality. If you missed a session or couldn't make it to the conference this year, take a peek here to access session materials.
Just like Ray Bradbury imagined a world with ever-evolving technology, educators helped make that world a reality. GRAETC's mission is to positively impact the Greater Richmond Area educational community to provide connected learning opportunities – and EdTEchRVA is a perfect opportunity to support and build capacity around innovative and sound pedagogical use of instructional technology.
Mission Accomplished!
Authorship Information:
After teaching English for 21 years, almost entirely in Henrico County, Gillian Lambert is now in her second year as an ITRT at Powhatan Middle School in Powhatan County. She currently serves as the EdTechRVA2020 Conference Chair for the GRAETC Committee.You can follow her on Twitter @GillianLambert.