Virginia Society for Technology in Education (VSTE) 2016 is just around the corner and GRAETC, as the newly minted regional affiliate, will be well represented at the conference. Many of our members will be attending the conference, and a few will be sharing their expertise at concurrent sessions and workshops. We hope you have a chance to visit with us.
Stephanie Playton and her director, Dr. Paula Leach of Longwood University's ITTIP,  will share her passion for robotics at her session, Problem-based, Interdisciplinary STEM with Hummingbird Robotics. Come find out how teachers took coding into their classrooms to foster problem-solving and creativity. In their second session, Stephanie and Paula will share additional Hummingbird resources, and other STEM resources for students of all ages.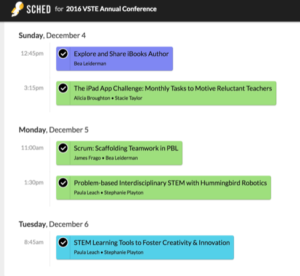 Stacie Taylor and colleague, Alicia Broughton of Hanover County, will share strategies to challenge reluctant teachers to make the most of iPads and apps in their classrooms. Encouraging teachers to participate in a new challenge each month, Stacie and her colleagues in Hanover County changed how many of their teachers approached the use of technology in their classrooms. Be sure to add this session to your schedule for Sunday afternoon.
How would you like to have customized textbooks for your classroom? On Sunday afternoon, Bea Leiderman of Goochland County will lead a workshop to get you started with iBooks Author. Attendees will get everything they need to assemble their own multitouch book over the two hours of the workshop. Everyone will leave with a customizable iBooks Author guide to use to in future projects. On Monday morning, Bea and her colleague, Jim Frago, will share how teachers at Goochland Middle School have embraced Scrum to scaffold teamwork and make project-based learning units a breeze.
Many other Virginia teachers and GRAETC members will be presenting at VSTE this year. Be sure to check out the online schedule for details.   
Authorship Information:
Bea Leiderman is an Instructional Technology Coach in Goochland County, VA. She has been an educator for 15 years. In her free time, Bea spends time outdoors taking macro photographs of insects to use in digital books for children.