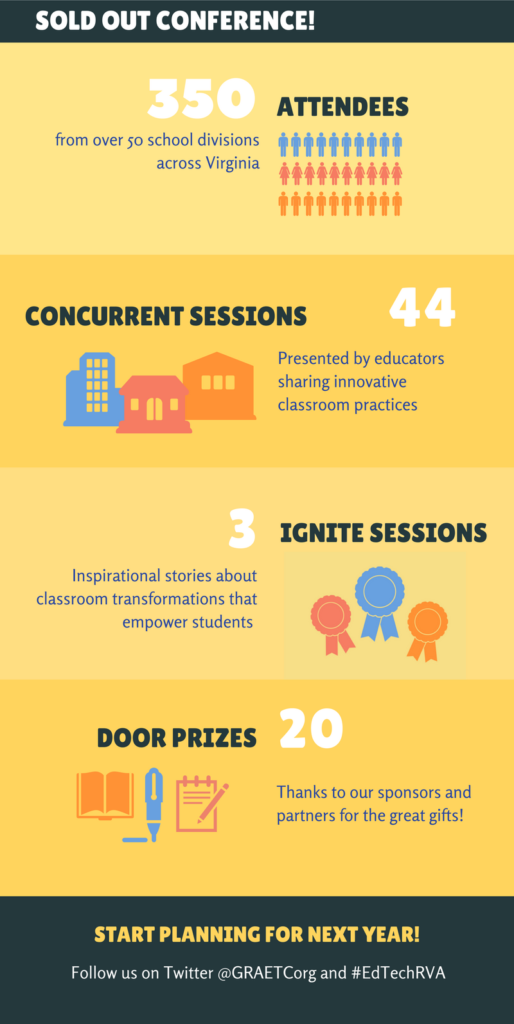 On Wednesday, March 7th, 350 educator's gathered at VCU's Academic Learning Commons to passionately support connected learning.  The conference had another early sell out this year with registration filling up nearly six-weeks before the conference day.  The conference began with a keynote presentation from Dr. Gardner Campbell who reminded attendees that "learning cannot be managed…it can be fostered and encouraged" and that we should shift educational technology away from just being a tool to an experience.
The day included forty-four, 45-minute sessions and 3 ignite sessions.  There were approximately 50 school divisions and organizations represented at this year's conference.
Conference attendees provided feedback to both the conference committee and presenters for next year's considerations, as the GRAETC team is already planning for EdTechRVA 2019. Let us know how EdTechRVA 2018 has helped you passionately support connected learning by tweeting us at @GRAETCorg, #EdTechRVA2018, or posting to our Facebook page.
| | |
| --- | --- |
| Dr. Gardner Campbell, keynote speaker, EdTechRVA 2018 Conference. | Conference attendee tinkers with OzoBot, EdTechRVA 2018 Conference. |
EdTechRVA 2018 Conference: Video Highlights