On Wednesday, March 9th, 350 of RVA's finest educators gathered at VCU's Academic Learning Commons to connect, network, and learn together! We expanded our registration this year to include an additional 50 attendees, and we still sold out weeks before the conference!  EdTechRVA is the place to be!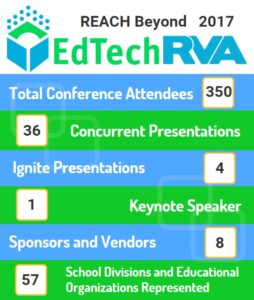 The energy started with Bill Rankin's powerful keynote reminding us that if we are building learning experiences for the average student, we are building them for no one.  Visit https://unfoldlearning.net/ to learn more about Bill's work in education.  Additionally, Clinton Learning Solutions, LLC provided an opportunity to record Bill's keynote address with the Swivl.
The day was chock-full of interactive experiences including a conference-wide BreakoutEDU, hands-on STEM tool demonstrations by our partners, the Virginia Society for Technology in Education (VSTE) and Longwood University's Institute for Teaching through Technology and Innovative Practices ITTIP, lunch talk with VSTE's Karen Richardson about Technology Standards for Instructional Personnel (TSIPs), and eight vendor stations with engaging educational tools to explore.
We continued our theme of Reach Beyond:  Real-world, Entrepreneurship, Adaptive, Creativity, and Higher-order Thinking. With 36 break-out sessions and four Ignite sessions, attendees experienced an array of learning opportunities spanning all grade levels and content areas.  There were a total of 57 school divisions and educational organizations represented conference-wide, with 12 school divisions and educational organizations represented as presenters.
Conference attendees reported these presentations as their top three:
Animated Movie Creation in the Cloud – Online, Free, Easy

led by Terri Vernon from Henrico County Public Schools

Digital Storytelling with Scratch

led by Blythe Samuels and Sharon Shadrach from Powhatan County Public Schools

Take a Schoolcation! Interactive Virtual Field Trips with Google My Maps & Google Arts and Culture

led by Catherine Tompkins and Matt Fuquay from Chesterfield County Public Schools
The GRAETC team is already planning for EdTechRVA 2018!  Keep an eye out for our call for proposals early fall.  We would love to know how you are implementing ideas from the conference, please continue the conversation year-round using #EdTechRVA.
| | |
| --- | --- |
| Keynote session, EdTechRVA 2017 Conference. | Ignite Presenters, EdTechRVA 2017 Conference. |