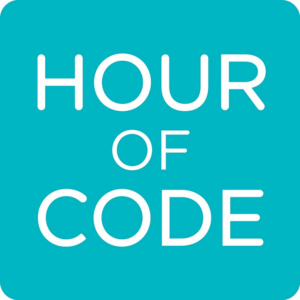 Computer Science Education Week is held annually in December in recognition of the birthday of computing pioneer Admiral Grace Murray Hopper. Hour of Code™️, a component of Computer Science Education Week, encourages students to spend one communal hour learning to program in a pre-made, easy-to-use, and engaging environment.This year, Hour of Code™️will be held December 3-9, 2018.
Coding develops the 21st-century skills of problem-solving, critical thinking, and creativity. Hour of Code™️ is designed to set students up for success and stimulate interest in computer science careers–particularly females and other underrepresented student populations.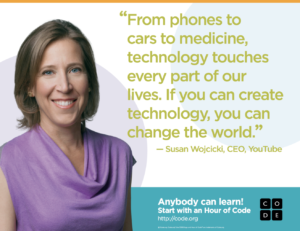 Hour of Code™️ is a worldwide movement organized by Code.org, a public 501c3 non-profit, and  has tens of millions of students participating in 180+ countries.  Code.org provides many one-hour tutorials available in more than 45 languages for students aged 4 to 104!
To join in, register your participation at Hour of Code™️ and review the "How To" guide.  Try out the fun, engaging activities, and select one for your students.  Choose an hour, and begin! Activities are designed to be completed individually and as a group. Unplugged options are also offered!
Here are a few logistical points that you might want to consider:
Make sure you have a computer for each student, or a computer for each pair of students
.

If students must pair up ("

pair programming

"), then make sure they take turns being the typist and the watcher.

Make sure students have headphones.

Have a team leader/department chair coordinate with your technology department to determine the number of classes that can participate at any one time so that the wireless network is not overtaxed.
At the conclusion of the the  Hour of Code™, celebrate successes. Consider having students project their creation or share the number of lines of code they successfully wrote. We encourage teachers to prove that "Anyone can learn!" by participating as well!
Stay tuned for our next blog post, "Too Young for Coding; Nonsense– Aligning with New Computer Science Standards," which will delve further into pedagogical theory behind coding.
Authorship Information:
Beth Sepelyak has been with Chesterfield County Public Schools for 15 years.  She currently serves as an Elementary Team Lead in their Technology Services Department.  She enjoys working with other educational professionals and all things technological!