In Part II of our blog series highlighting the efforts of three Hanover County Public School teachers who have transformed learning spaces to empower students and to amplify learning, guest blogger, Tamara Letter shares her story of the Tiny Tech Cafe and the shift toward innovation.
I became a technology integrator ten years ago, assigned to an elementary school in the same district I attended as a child. During those ten years, I have been in the same school, in the same room. It has been a huge struggle for me to convince others to view this space as "our room" (since my desk was in the back and it was filled with heavy tables, chairs, and laptops). Because this was the room to which I was assigned, people viewed it as "Mrs. Letter's Lab" instead of a shared working space. When teachers wanted to collaborate with me, they brought their students to this space because it was easier than rolling a huge, metal cart across our open-campus school with sidewalk cracks and uneven terrain.
Every lesson used a laptop.
Every student sat in a chair.
Every chair faced the front of the room.
Ten years ago, "innovation" wasn't the focus as it is now. I struggled to adjust to this new structure of instruction – wanting to support the technology integration efforts of others in a space that never shifted, with a room design that was static and stagnant.
When I was a classroom teacher, my room was fluid. If I wanted flexible seating, I moved the desks around or pushed them to this side. As an ITRT, I found myself stuck with the room layout and design as laptop cables were taped to the floor and always plugged in. If I wanted to use a different form of technology, such as iPads or Ozobot robots, the laptops were pushed to the edge of the table with the smallest desktop space available for use. It was not ideal for changing technology nor changing mindsets.
Since a large part of my job is providing teachers with professional development, I wanted a space with a cozy environment that could attend to their needs – not one with stark, white, cement walls and immobile furniture. I needed more. They needed more.
Tiny Tech Cafe
Two years ago I took a risk. I started a GoFundMe campaign to change up the back corner of Lab 1 to become more appealing for teachers. Inspired by the #StarbucksMyRoom hashtag, I designed this space, dreaming big. Gone was my teacher desk – I wanted bar height tables and chairs! A coffee maker! A bookshelf with new, relevant books by up-and-coming authors (not the books that were written decades before and collecting dust in my garage). Could I even get a sofa? Who puts a sofa in a computer lab?
Apparently me.
With the financial support of friends, family, and community stakeholders, we opened our Tiny Tech Cafe on September 6, 2016 and the response was overwhelmingly positive. Teachers were now stopping in to grab a cup of coffee or take a quick break in their day that almost always resulted in conversations with each other.
My relationships with teachers grew as did my desire to make this happen for students, too.
SOAR with Innovation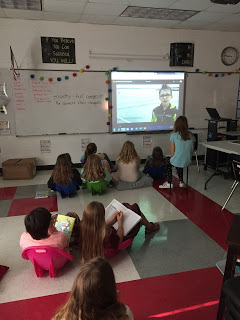 In Spring of 2017, I applied for a Creative Classroom Grant with the Hanover Education Foundation to transform the remainder of the room, so that we could have flexible seating options and resources at our fingertips. (Do you know how many times I had to run down the hall and ask someone if we could borrow pencils, paper, and clipboards as we worked with technology? We needed basic supplies in here, too!)
Our grant was fully funded (with matching funds from my school), and we were on our way! So exciting! Unfortunately, it was a painstakingly slow process to get everything in place according to the vision and timeline. When school began in September, I was still waiting for bulletin boards to be removed, shelves to be added, and stools to be put together. There was no official "Welcome to Our Innovation Lab".
Grand Opening because… well… it was, and is, a constant work in progress!
As the year progressed, we started building out the room with areas for green screen recordings, Lego creations, and a fully stocked makerspace corner complete with labeled bins for easy access and storage.
We added carpet, pillows, and a recording studio (for students who were self-conscious about recording themselves). There was a great end-of-season sale on patio furniture cushions, and I purchased 6 scoop bucket seats for $35 (which, by the way, are a hit for all K-5 students no matter what that weight limit says on the box!).
Shifting Mindset
"If you build it, they will come." I clung to this Field of Dreams mindset, hoping others might see the potential this space could have for ALL students, ALL teachers, ALL disciplines. I started shifting the types of lessons I offered with teachers, guiding them through problem-solving design processes, and small group station rotations with students leading the way. I started a small group book study of Innovator's Mindset by George Couros as we eagerly dove into this unknown land of innovation.
The Innovation Lab wasn't just a shift of space; it was a mind shift as well.
Our Innovation Lab reflects 100% flexibility in design, purpose, and scheduling. We created a website for our space and distributed magnets with the website URL to all teachers; so at the click of a mouse, they can add their name to a Google Sheets spreadsheet and reserve the lab for whatever their need might be. They can also use this website to request supplies, borrow a book from our lending library, or be inspired by lesson ideas of others.
Learning Experiences
I'm proud of all of the ways this space is being utilized. We've had theme days like Talk Like a Pirate Day with back-to-back lessons complete with station rotations. We've shared in collaborative learning experiences between classes as older students support the learning of younger students. We've coded robots, designed three dimensional shapes with 3D Doodler pens, and created public service announcement commercials about why you should "Save the Bay."
Our students are at the helm of their learning experiences. They are teaching us how to create videos with iMovie and new uses for cardboard rolls and tape. They are solving real world problems and developing compassion and empathy in the process. They are offering suggestions on how to make things flow better and sharing their expertise with others. They are even taking ownership of JOY with Jubilant Outcries of Yes!
For those who are worried about the loss of testing space, have no fear. In less than ten minutes time I can transition this learning space back into a traditional computer lab complete with twenty-four laptops, twenty-four chairs and six stationary tables. It truly is a multi-use space that meets the needs of all learners in a variety of ways.
Right now we have paper, pencils, and clipboards; and the moment that testing is complete, we can get back to learning the way learning is intended.
The way we need it to be.
Authorship Information:
Tamara Letter is an Instructional Technology Resource Teacher (ITRT) for Hanover County Public Schools with twenty-one years of educational experience serving students and staff in Nevada, Tennessee, and Virginia. Recently named Mechanicsville Elementary Teacher of the Year, she continues to inspire educators around the world with collaborative partnerships, book studies, and personalized professional development. Tamara also serves as the Social Media Chair for the Virginia Society for Technology in Education (VSTE) Conference and is currently writing a book about kindness to be published by Dave Burgess Consulting, Inc. Connect with Tamara on Twitter (@tamaraletter), Instagram (@tamaraletter), her Passion for Kindness Facebook group (https://www.facebook.com/groups/200187120535447) or on her website (http://www.tamaraletter.com).